These Vegan Strawberry Muffins are loaded with fresh strawberries and topped with a sweet, buttery crumble. It's an easy one-bowl recipe just like my popular Vegan Blueberry Muffins!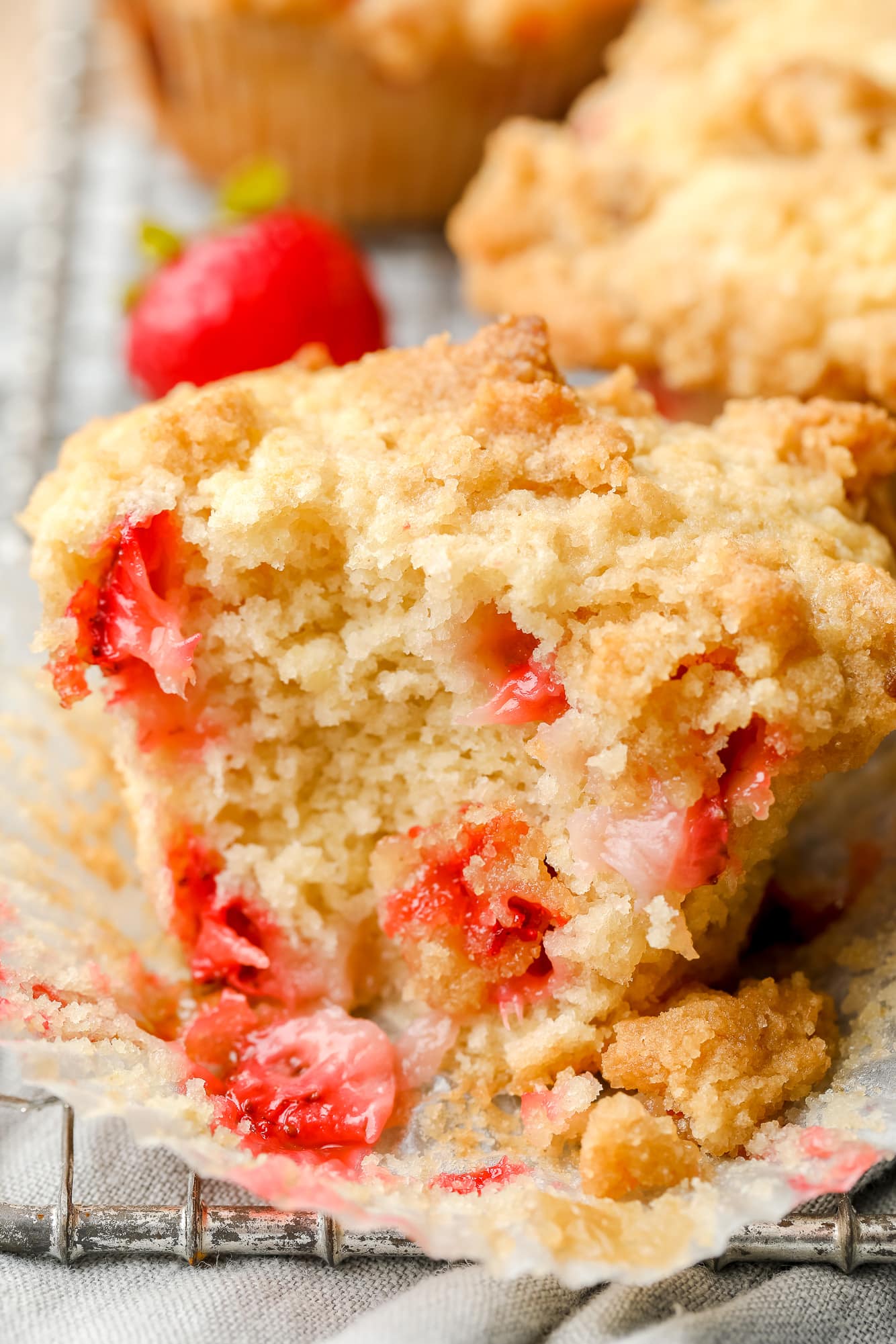 This vegan strawberry muffin recipe is easy to make in one bowl with fresh summer strawberries and simple baking staples. But the best part is the sweet and buttery crumble on top! Made from vegan butter, sugar, and flour, it's a melt-in-your-mouth treat that takes every strawberry-loaded bite over the top. 
Want to put your own spin on the muffins? It's a very versatile recipe! Easily make the batch of muffins with gluten free flour or with oil free substitutes. Or spruce it up with even more fruit in the batter, like berries, rhubarb, or bananas. The possibilities are endless!
For a fancier summer breakfast treat, consider whipping up a batch of these incredible Strawberry Rolls.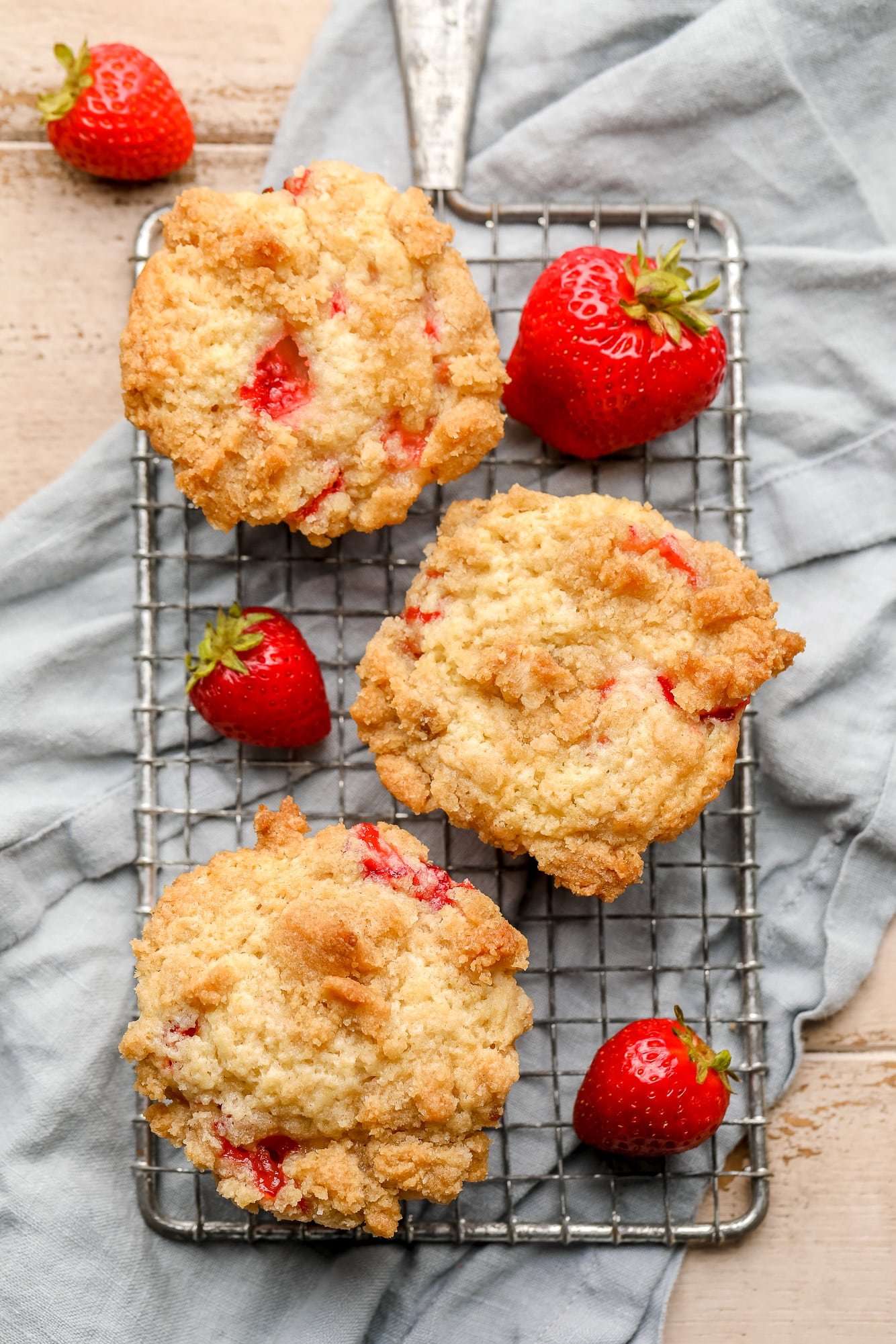 Ingredients needed (with substitutions)
All purpose flour – This yields the fluffiest, most tender muffins. A good quality gluten free all purpose flour will also work, or whole wheat pastry flour or even spelt flour.
Sugar – You need granulated sugar for structure and sweetness in the muffin batter. Both granulated sugar and brown sugar are needed for a rich, caramel-like sweetness in the crumbly streusel topping.
Baking powder
Cornstarch – Did you know that cornstarch can make baked goods light and chewy? It's true! Arrowroot or tapioca starch will also work. It's especially helpful since there are no eggs in vegan baking.
Salt
Vegan butter – Or use a neutral vegetable oil instead, like canola oil. The crumb topping can be made with melted coconut oil instead of butter as well.
Soy milk – Make sure it's unsweetened so your muffins aren't overly sweet. Use any plant milk instead of soy.
Vanilla extract
Strawberries – Fresh strawberries are best! When you're shopping, look for bright red strawberries without blemishes and with bright green tops. If needed, you could probably use frozen strawberries or even freeze dried strawberries.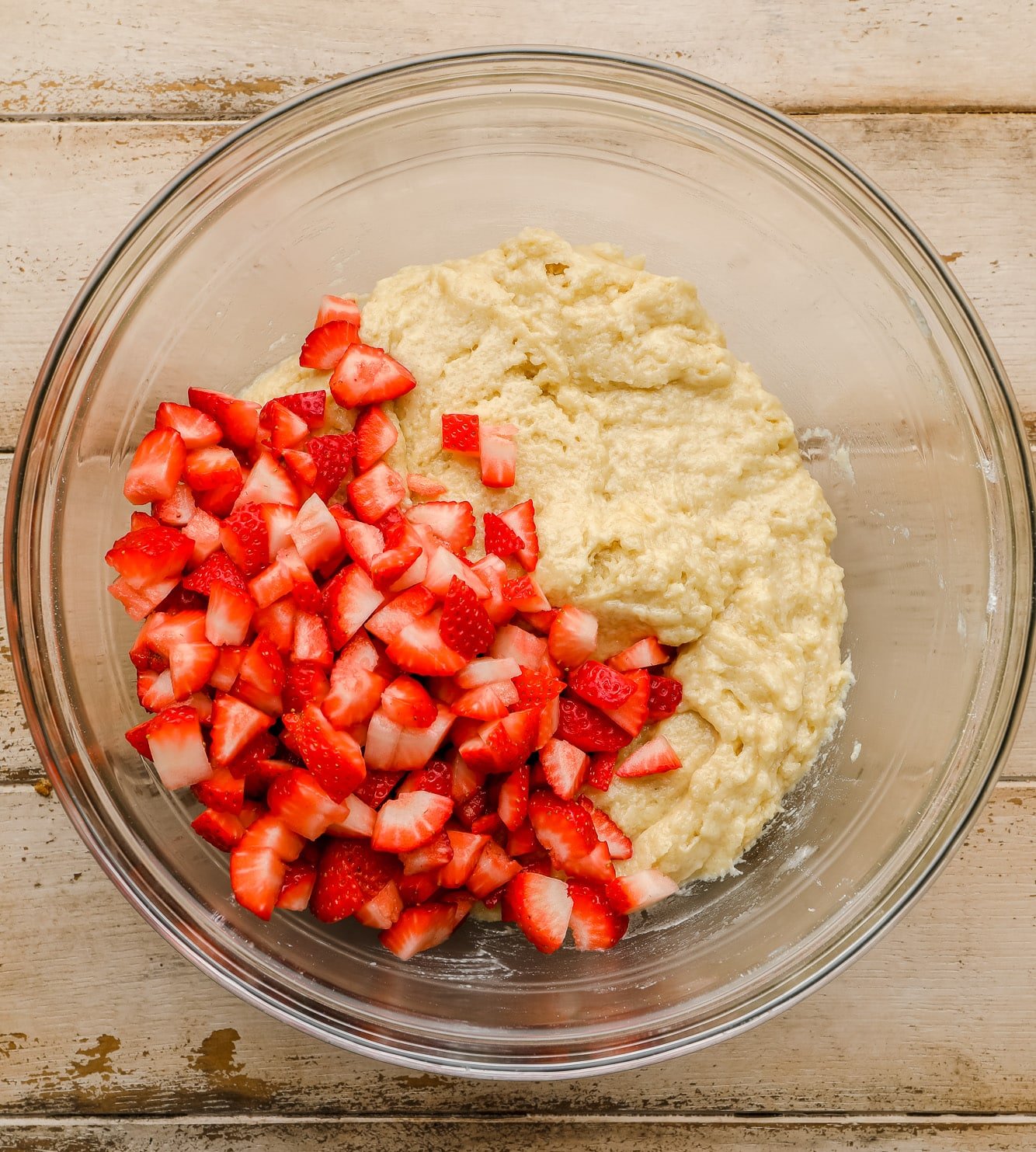 How to make vegan strawberry muffins
Find the complete recipe with measurements in the recipe card below.
Whisk all of the dry ingredients together in a large mixing bowl. Pour the melted butter, soy milk, and vanilla over the dry mix, then gently stir until everything is just combined together.
To finish the batter, gently fold in the chopped strawberries.
Pour the batter into a lined muffin tin.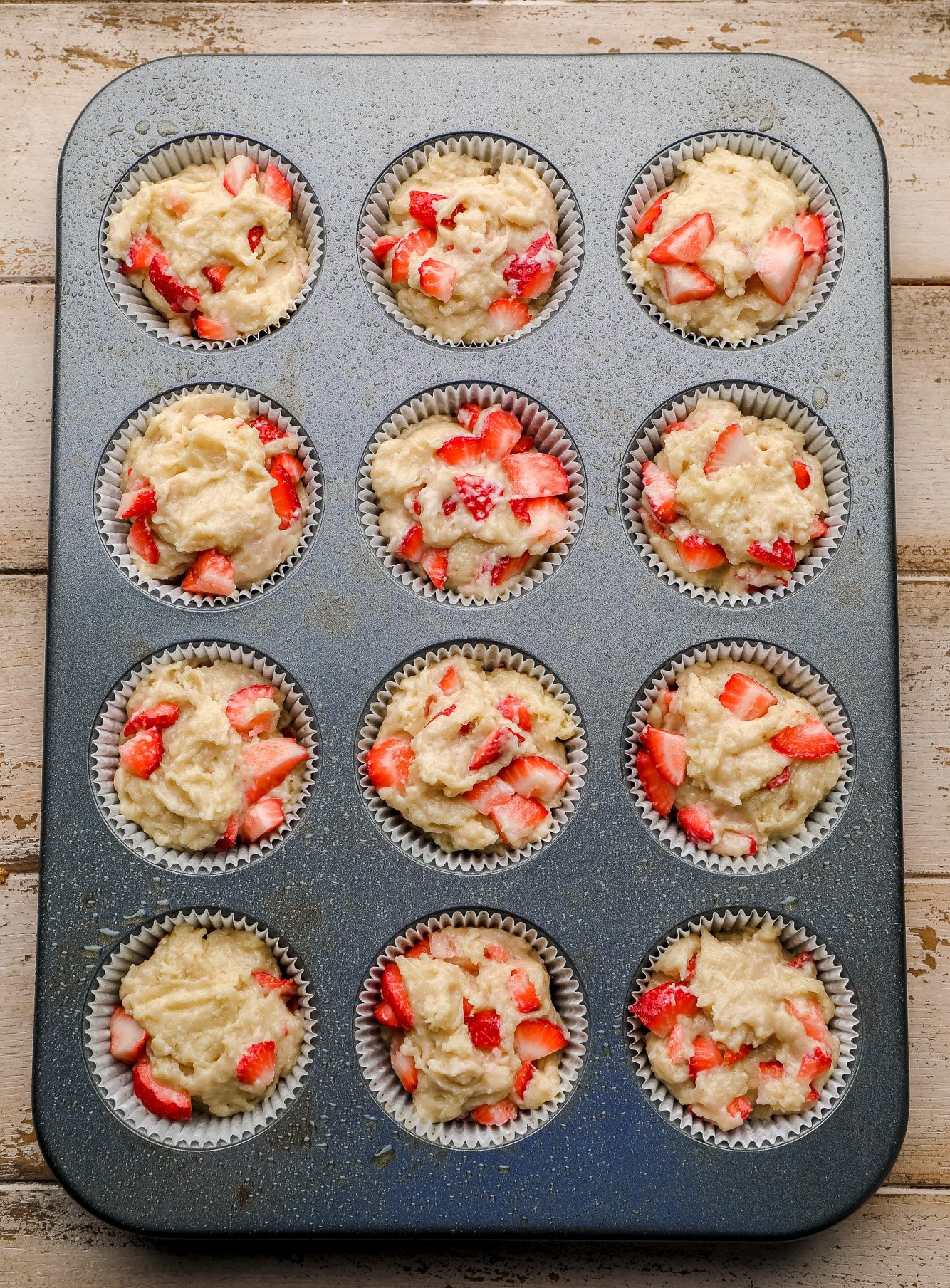 To make the crumb topping, stir the melted butter, sugars, and flour together with a fork until the mixture is crumbly. Sprinkle the crumble over the muffin tops.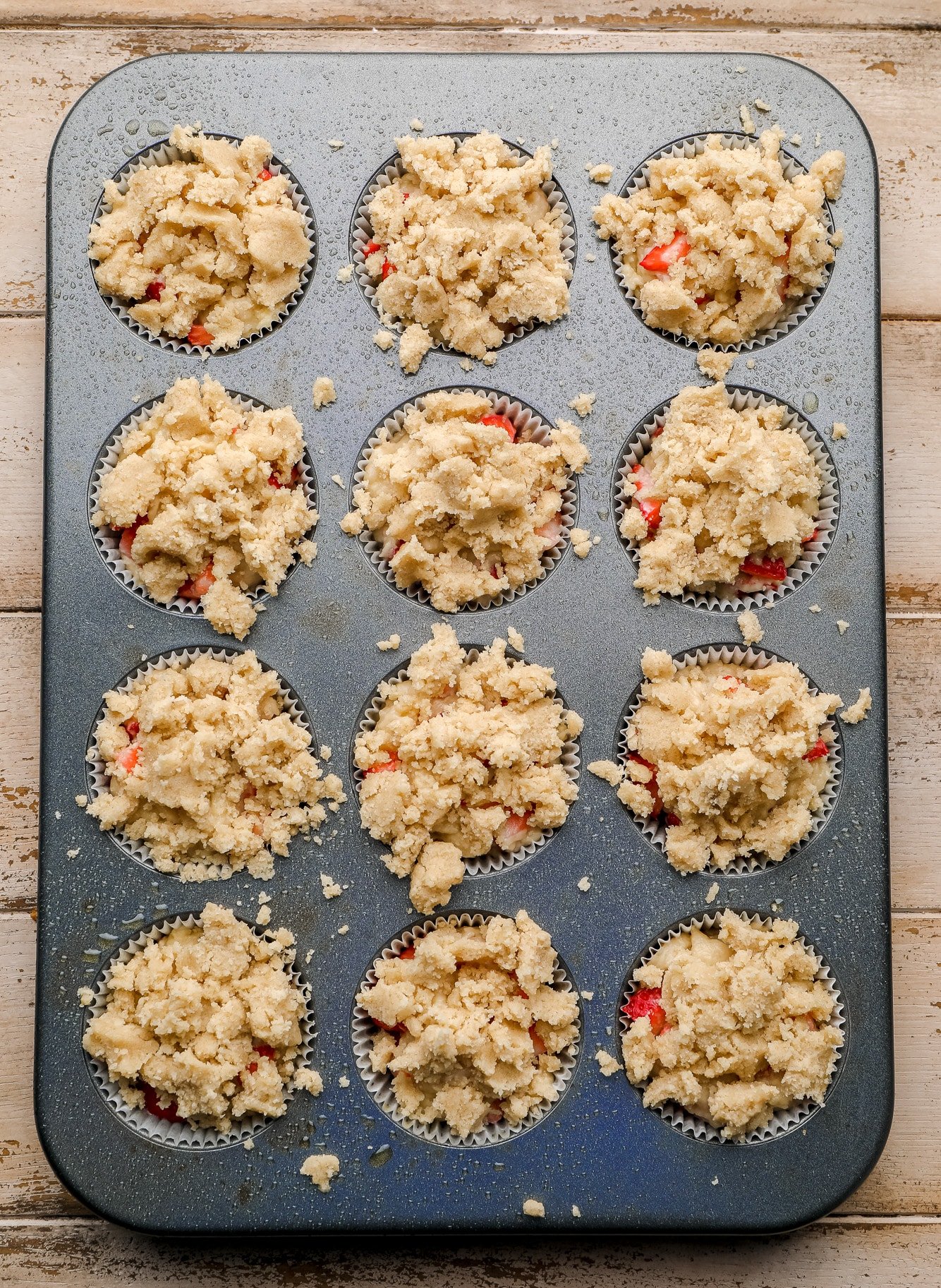 Bake the strawberry muffins until they're golden brown and a toothpick inserted in the middle comes out clean.
Let the muffins cool for a few minutes in the muffin tin before transferring them to a cooling rack to cool completely.
Store them away once they're cool or enjoy them right away!
Tips for success
Only stir the wet ingredients into the dry mix until you have a smooth batter and no dry flour streaks remain. Overmixing will lead to dry and dense muffins.
Spray the muffin liners with a light layer of cooking oil to prevent the batter from sticking.
Fill the muffin tin ¾ of the way full with batter. You want to leave enough room for the crumble topping and for the muffins to rise.
You can skip the crumb topping if you need the muffins in a hurry.
If you skip the crumb topping, press a few extra strawberries into the tops of the muffins before baking.
Stir 1 to 2 tablespoons of fresh lemon zest into the muffin batter for a pop of zesty brightness!
Flavor variations
Strawberries pair so well with all kinds of ingredients, making this recipe easy to play with when it comes to more add-ins. Put your own spin on it by substituting up to 1 cup of the chopped strawberries for any of these add-ins:
Blueberries
Raspberries
Rhubarb
Peaches
Slivered almonds
Chocolate chips
Blackberries
Cherries
Walnuts
Sliced bananas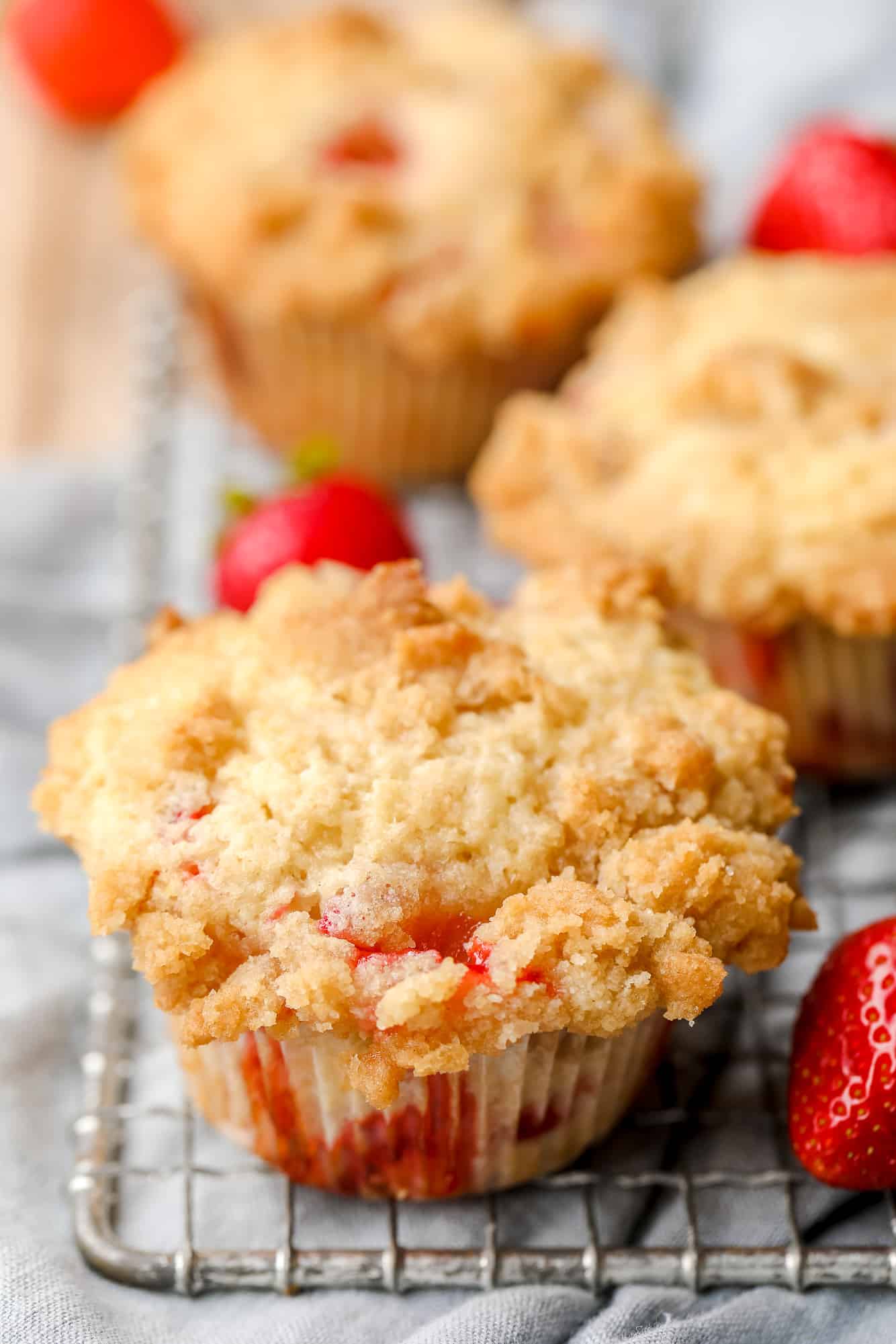 Frequently asked questions
Can you make these muffins with frozen strawberries?
I prefer to make these muffins with fresh, seasonal strawberries because of their vibrant flavor and juicy, yet firm texture. But if all you have are frozen strawberries, go ahead and use them instead! Just remember to thaw the frozen berries and dry them really well with paper towels before adding them to the batter.
Can they be made oil free?
Yes. Instead of oil/butter, make the strawberry muffins with the same amount of unsweetened applesauce or plain vegan yogurt. There is no replacement for the butter in the crumb topping, so it's best to omit the crumble entirely.
How long do strawberry muffins last?
The baked strawberry muffins stay fresh and moist for about 3 days when kept in a sealed container on the kitchen counter. To enjoy them throughout the week, store them in the fridge.
Do vegan strawberry muffins freeze well?
Yes, these muffins freeze very well! To freeze, place the baked muffins in an airtight container and freeze for up to 3 months. Let them thaw to room temperature before serving.
Want more easy vegan muffins?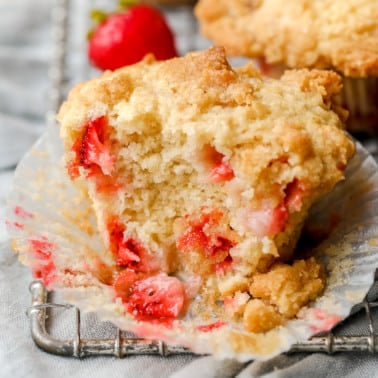 Vegan Strawberry Muffins
These Vegan Strawberry Muffins are loaded with fresh strawberries and topped with a sweet, buttery crumble. It's an easy one-bowl recipe just like my popular Vegan Blueberry Muffins!
Instructions
Preheat your oven to 375 degrees F and line a standard muffin pan with paper liners. Spray lightly with oil.

In a large bowl, whisk together all the dry ingredients: flour, sugar, baking powder, cornstarch and salt.

Pour in the melted vegan butter, soy milk and vanilla. Stir with a large spoon until just combined, but do not over mix or your muffins will be dense.

Fold in the strawberries, gently.

Using a small measuring cup or ice cream scoop, transfer the batter to the prepared liners and fill 3/4 of the way full.

Make the crumb topping: In a small bowl, combine all ingredients and mix with a fork until crumbly.

Sprinkle the crumb all over the tops of the muffin batter.

Bake for 20-25 minutes, until slightly golden brown on top and a toothpick inserted comes out clean. Let them cool for at least 5 minutes in the pan, then transfer to a cooling rack.

Store muffins in an airtight container at room temperature for about 3 days, or up to 1 week in the refrigerator. They also freeze well.
Notes
May use gluten free all purpose flour or whole wheat pastry flour or even spelt flour.

You can use coconut oil in the topping and any neutral oil in the muffins. For oil free, omit the crumb topping and sub applesauce or vegan yogurt for the oil/butter.
Nutrition
Serving:
1
of 12 muffins
|
Calories:
303
kcal
|
Carbohydrates:
51
g
|
Protein:
3
g
|
Fat:
10
g
|
Saturated Fat:
2
g
|
Polyunsaturated Fat:
3
g
|
Monounsaturated Fat:
4
g
|
Trans Fat:
0.1
g
|
Sodium:
197
mg
|
Potassium:
163
mg
|
Fiber:
1
g
|
Sugar:
29
g
|
Vitamin A:
574
IU
|
Vitamin C:
14
mg
|
Calcium:
61
mg
|
Iron:
1
mg