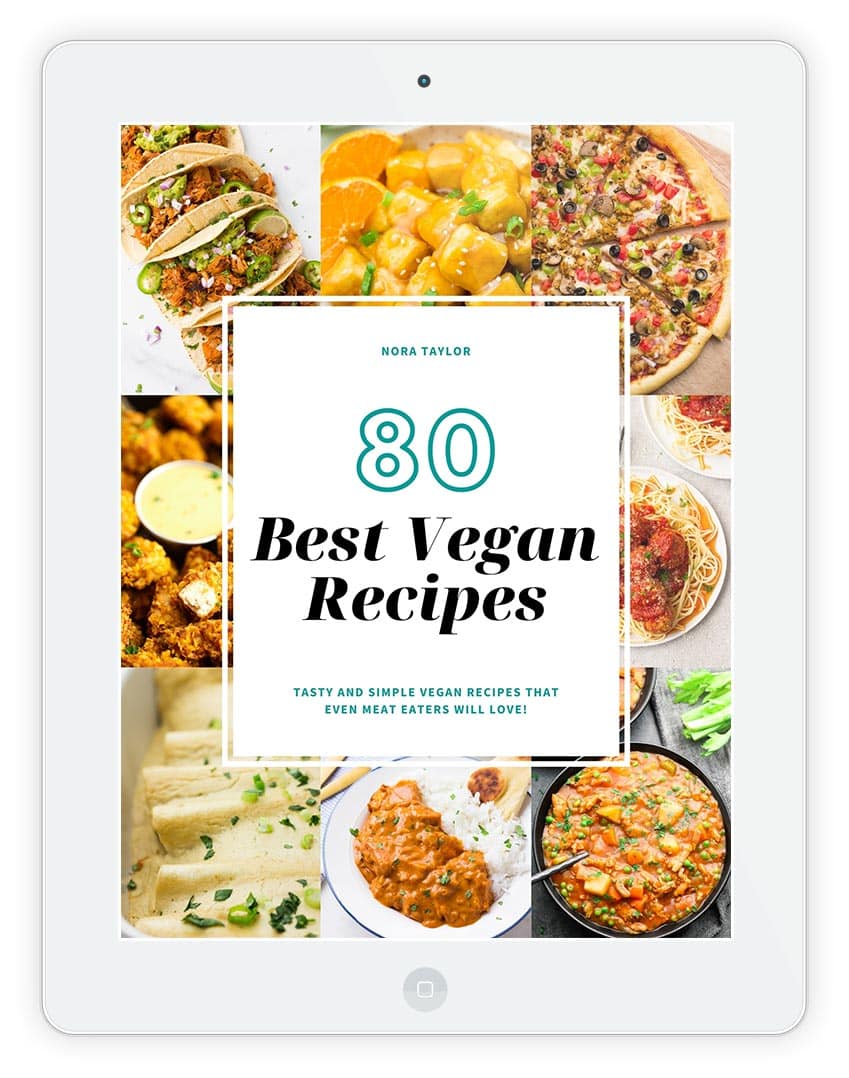 Buy My Ebook
Best Vegan Recipes
80 simple, tasty vegan recipes that even meat eaters will love!
Buy Now
Are you bored with your current food routine? Or new to eating vegan?
… then you need this ebook!
Do you struggle to find vegan recipes your family actually wants to eat, and that are easy enough to make on a busy weeknight?
My mission here at Nora Cooks is to help YOU find recipes the whole family will enjoy, and that won't take you all day to prepare!
The food you grew up eating, but made vegan. Pasta, pizza, potatoes, chili, take out favorites, burgers, casseroles and more!
This ebook is a collection of the most popular recipes from my website. It comes with a clickable table of contents, making the recipes easy to find with no ads. Plus, you don't need an internet connection to view it!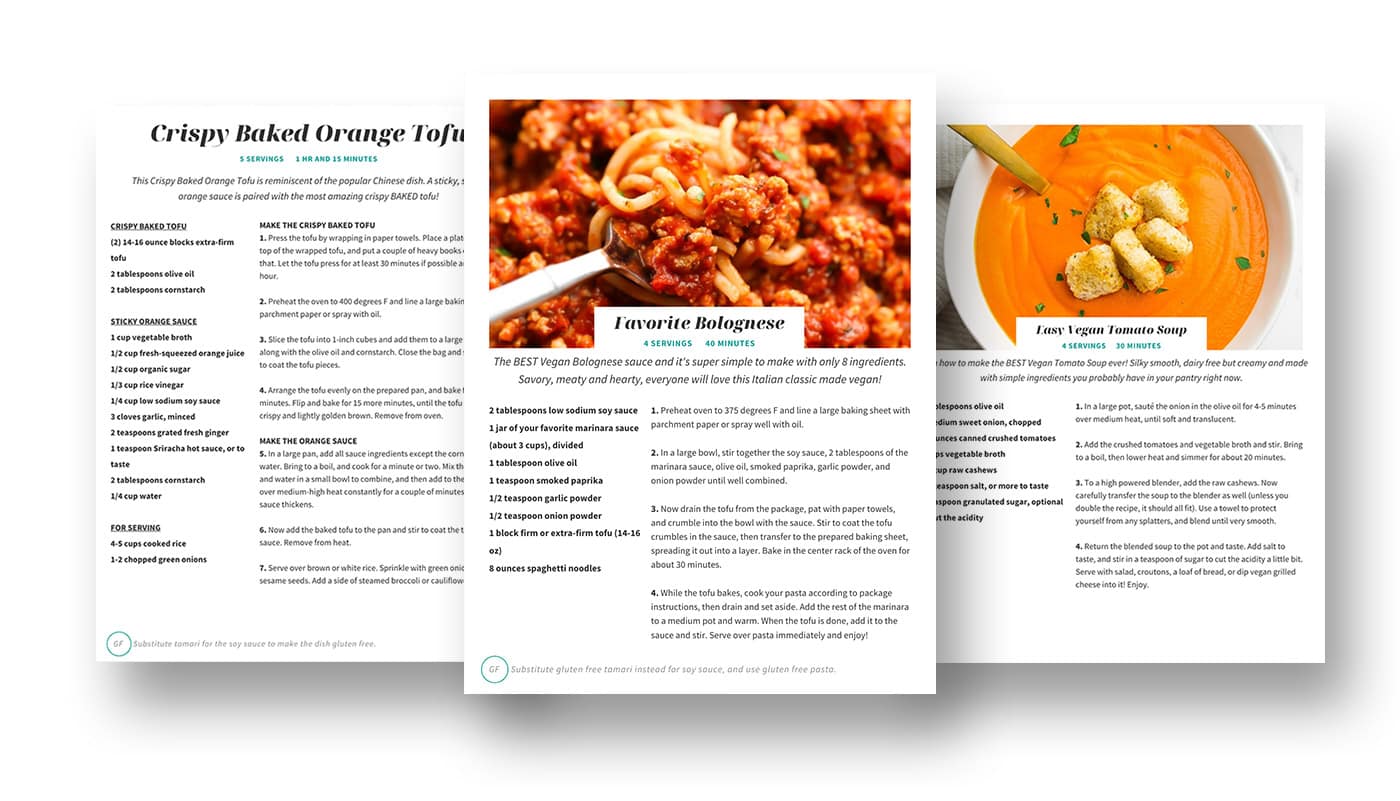 Maybe you're new to the whole vegan thing, or maybe you're a seasoned vegan looking for new inspiration! Wherever you are in your journey, this book will help you celebrate with mouthwatering recipes!
Here are just some of the recipes you will get:
The Best Vegan Lasagna
Baked Ziti
30 Minute Pad Thai
Vegan Butter Chicken
Vegan Chili & Cornbread
Broccoli Cheese Soup
Teriyaki Noodles
Vegan Pot Pie
Vegan Egg Salad
Vegan Sour Cream Enchiladas
Jackfruit Carnitas
Vegan Scalloped Potatoes
The Best Vegan Chocolate Cake
& so much more!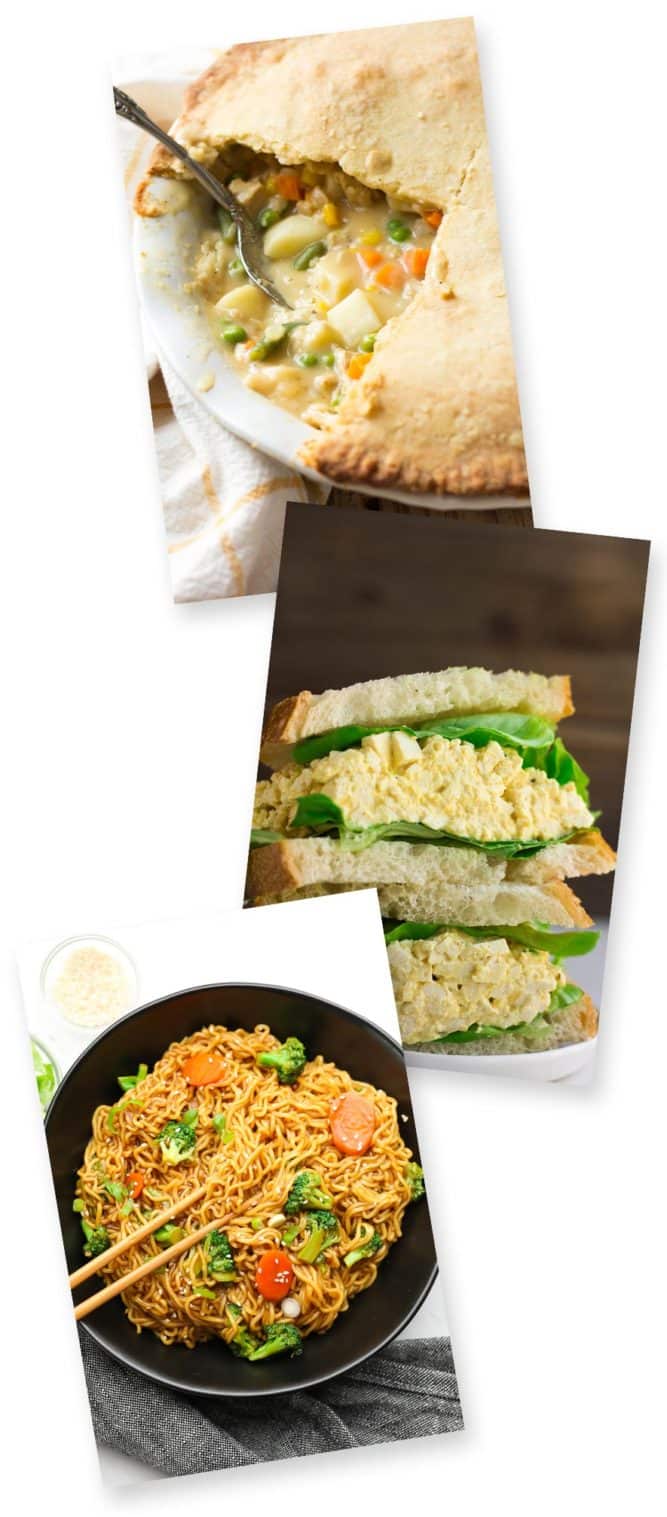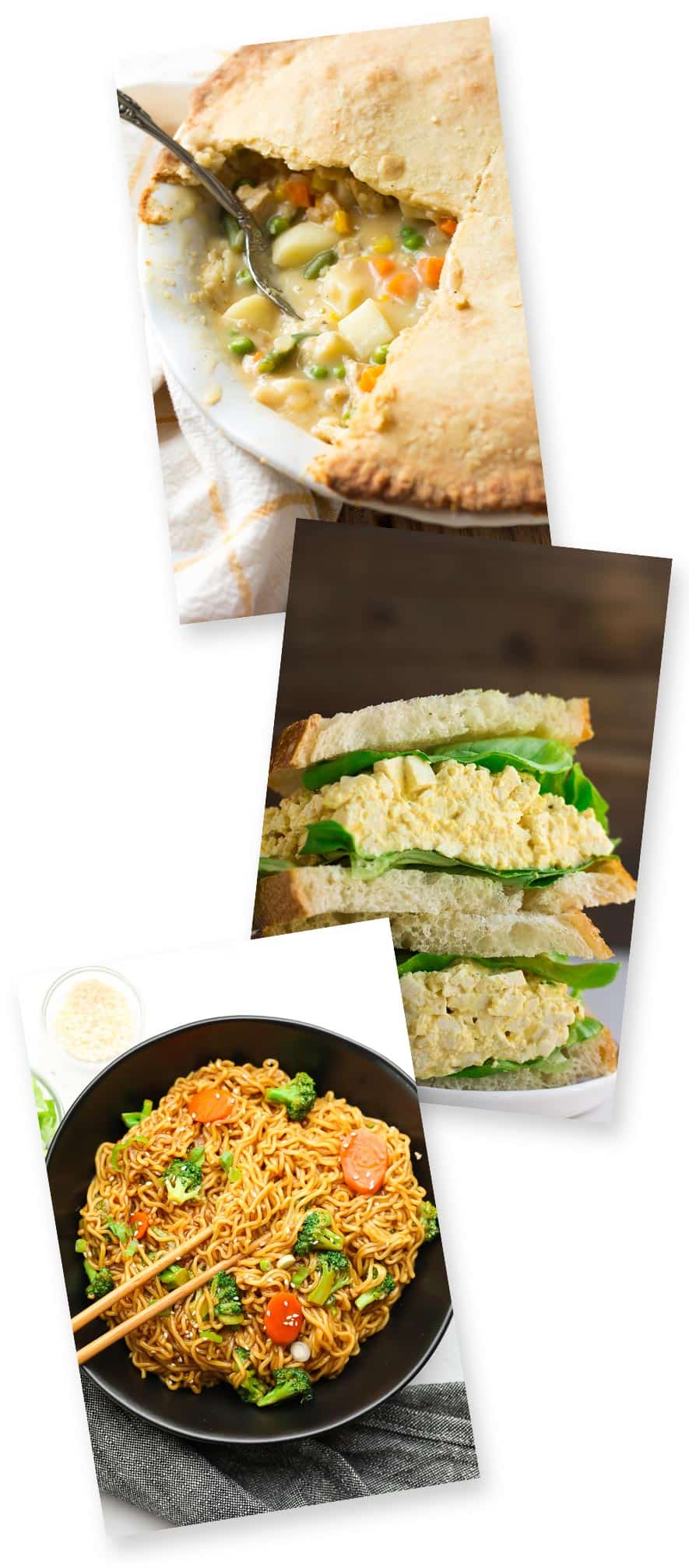 ---
What's included in the book?
This digital book contains 80 vegan recipes with a clickable table of contents and more!
Weekly meal plan sheet for planning you meals
Shopping list template with vegan categories for easy organization
80 recipes with easy to follow instructions
A beautiful photo for each recipe
Gluten free options for nearly every recipe
Buy Now
---
Common Questions:
Are all the recipes gluten free?
Nearly all of the recipes can be made gluten free, and I've included a special note where applicable. Many recipes are already gluten free. Usually it is as simple as using gluten free pasta instead of wheat, gluten free corn tortillas or buns, or simply replacing low sodium soy sauce with gluten free tamari. There are a few exceptions, mainly seitan based recipes that can not be made gluten free.
Are all the recipes vegan?
Yes, 100%!
Are the recipes nut free?
No, the recipes in this book are not all nut free, though many are. Depending on what you can have, you could try substituting with raw sunflower seeds, especially in cashew heavy recipes. They work quite well and are allergy friendly.
Are all the recipes oil free?
They are not all oil free, however if you do not use oil don't worry! Usually I just use a tablespoon or two for sautéing onions/garlic in, so you can substitute water. In my cornbread recipe, it's easy to substitute applesauce for the oil. So all the recipes can fairly easily be made oil free!
Do you call for vegan meat or cheese substitutes?
I like to cook with whole plant foods as much as possible. There are a few recipes that call for vegan meat (my Jambalaya calls for vegan sausage, but you could use beans instead.) Vegan cheese shreds are an option for a couple of the recipes, but not necessary.
How many people do the recipes serve?
Most recipes serve a family of 4 or 5, and some of the recipes make a little more than that even. Yay for leftovers! We eat leftovers for lunch nearly every day. If you are only cooking for 1 or 2, you can cut the recipes in half, or maybe you will just need to cook a few meals a week for your dinners.
Are the ingredients expensive or hard to find?
No, the ingredients can be found at nearly any store. Depending on where you live, I understand that nuts and seeds can be expensive. I highly recommend finding a local discount or bulk store to buy nuts, you will save so much money!
Is this book in print form?
No, it's only in a digital format. However, you can print it out either in color or black and white if you would like to.
How many pages does the book have?
It is 140 pages long.
More questions? Send a comment through my Contact form here.
Buy Now